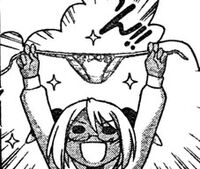 Yue's Panties is a range of string bikini panties owned by Yue Ayase.
Unique in that her other classmates wear more general styles of panties (such as basic bikini briefs), Yue prefers side-tie bikini panties due to an issue where she is uncomfortable going to the bathroom without fully removing her panties; thusly side-tie panties make this task easier then basic bikini briefs.
Gallery
Trivia
In Japan, the traditional toilet is the Squat toilet; a toilet used by squatting over it (rather than sitting like traditional western toilets). Due to the position women must assume in order to use these toilets, most opt to remove clothing like pants or underwear less they inadvertently miss the toilet and stain them.
Ad blocker interference detected!
Wikia is a free-to-use site that makes money from advertising. We have a modified experience for viewers using ad blockers

Wikia is not accessible if you've made further modifications. Remove the custom ad blocker rule(s) and the page will load as expected.