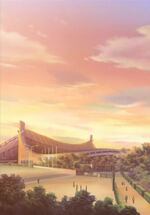 The Yoyogi National Gymnasium (国立代々木競技場 Kokuritsu Yoyogi Kyōgi-jō) is an arena in Yoyogi Park, Tokyo which was built to house the swimming and diving events in the 1964 Summer Olympics in Tokyo.
The arena holds 13,291 people (9,079 stand seats, 4,124 arena seats and 88 "royal box" seats) and is now primarily used for ice hockey, futsal and basketball. Images of the arena are regularly featured at the end of NHK Newsline broadcasts because the NHK World studios are adjacent to the arena along the edge of Yoyogi Park.
Gallery
Trivia
Aside from the Olympics, the gymnasium is also famous for its suspension roof design; inspired by the arena designs for the 1972 Summer Olympics in Munich.
Ad blocker interference detected!
Wikia is a free-to-use site that makes money from advertising. We have a modified experience for viewers using ad blockers

Wikia is not accessible if you've made further modifications. Remove the custom ad blocker rule(s) and the page will load as expected.