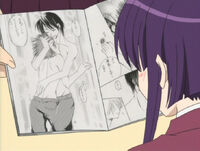 Yaoi Doujinshi, also known as Boys' Love Comics, are a genre of female-oriented manga that focus on homoerotic or homoromantic male relationships. Usually self-published works, Yaoi doujinshi can be original creations or parody mainstream anime and manga works.
Yaoi began in the dōjinshi markets of Japan in the late 1970s/early 1980s as an outgrowth of the Shōnen-ai genre, but whereas shōnen-ai (both commercial and dōjinshi) were original works, yaoi were parodies of popular shōnen anime and manga, such as Captain Tsubasa and Saint Seiya.
Gallery
See Also
Trivia
Possibly due to their female-oriented nature, Yaoi doujinshi are usually created by female authors.
Ad blocker interference detected!
Wikia is a free-to-use site that makes money from advertising. We have a modified experience for viewers using ad blockers

Wikia is not accessible if you've made further modifications. Remove the custom ad blocker rule(s) and the page will load as expected.