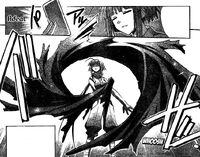 The Tengu no Kakuremino (Magic Cloak of the Tengu), is a magical artifact that Kaede Nagase received as part of her Pactio contract with Negi Springfield.
The cloak can be used for camouflage and or invisibility purposes as the cloak, once worn, can blend into the surroundings, effectively making it invisible while concealing the wearer.
Within the cloak is in another plane of reality which includes a small Japanese residence. Aside from stealth and travel, Kaede's artifact has other uses, such as absorbing enemy attacks or catching someone who is falling in midair.
Gallery
Trivia
Kaede is the ninth student to make a provisional contract with Negi.
The artifact appears to be based on the Japanese folk tale "Tengu's Magic Cloak"; wherein a boy looks through an ordinary piece of bamboo and pretends he can see distant places. A tengu, overwhelmed by curiosity, offers to trade the bamboo for a magic straw cloak that renders the wearer invisible. Having duped the tengu, the boy continues his mischief while wearing the cloak. Another version of this story tells of an ugly old man who tricks a tengu into giving him his magical cloak and causes mayhem for his fellow villagers. The story ends with the tengu regaining the coat through a game of riddle exchanges and punishes the man by turning him into a wolf.
Ad blocker interference detected!
Wikia is a free-to-use site that makes money from advertising. We have a modified experience for viewers using ad blockers

Wikia is not accessible if you've made further modifications. Remove the custom ad blocker rule(s) and the page will load as expected.