Sextum
Alias

Averruncus of Water

Characteristics

Gender

Female

Hair Color

Green

Debuts

Manga Debut

Chapter 311

Anime Debut

ANIME FINAL
Sextum is the Averruncus of Water and is the only female of the Averruncus series. She is shown to have more respect for Dynamis than Tertium does.
Plots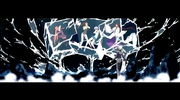 Sextum first appeared in chapter 311 in the manga, after Quartum cutting Chachamaru Karakuri's body in half and Quintum taking the Great Grand Master Key from Nodoka Miyazaki, she trapping Chisame Hasegawa and her friends into the water tp killing them.
Appearances in other media
ANIME FINAL
Sextum make a cameo appearance in beginning of the movie.
UQ Holder!
Sextum make a cameo appearance in Chapter 139 of UQ Holder!.
Trivia
Like her companions, her name is derived from numbers, and in this case from the latin word for "sixth", as she is the sixth generation Averruncus.
Sextum seems to hate turtles/tortoise.
Ad blocker interference detected!
Wikia is a free-to-use site that makes money from advertising. We have a modified experience for viewers using ad blockers

Wikia is not accessible if you've made further modifications. Remove the custom ad blocker rule(s) and the page will load as expected.