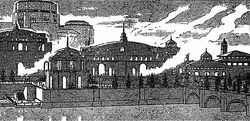 The Ostianae Magnaem Thermae is a hotsprings bathhouse and tourist attraction located within the capital city of New Ostia.
This public bathhouse is attached to the Grand Arena and is always bustling with both deeply religious old ladies and youngsters who drink the night away. It is second in popularity only with the Old Ostia ruins in regards to tourism.
Gallery
Trivia
According to the Magic World Journal (as read by Kazumi Asakura), they say you have to take a dip at least once in this bathhouse while visiting Ostia.
Ad blocker interference detected!
Wikia is a free-to-use site that makes money from advertising. We have a modified experience for viewers using ad blockers

Wikia is not accessible if you've made further modifications. Remove the custom ad blocker rule(s) and the page will load as expected.