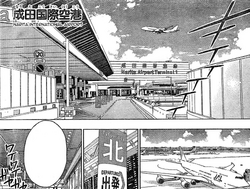 Narita International Airport is an international airport serving the Greater Tokyo Area of Japan.
Narita handles the majority of international passenger traffic to and from Japan, and is also a major connecting point for air traffic between Asia and the Americas. The airport is the second-busiest passenger airport in Japan, the busiest air freight hub in Japan, and ninth-busiest air freight hub in the world. It serves as the main international hub of Japan's flag carrier Japan Airlines, All Nippon Airways, Nippon Cargo Airlines, and also low-cost carriers Jetstar Japan and AirAsia Japan. Under Japanese law, it is classified as a first class airport.
Gallery
Other Appearances
A.I. Love You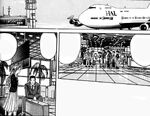 Main Article: Narita International Airport
In A.I. Love You, Cynthia McDougal arrives in Japan via the Narita International Airport, in addition the main cast also departs Japan at the end of the series via the Narita International Airport on route to America.
Love Hina
Main Article: Narita International Airport
In Love Hina, Keitaro Urashima uses the Narita International Airport to travel to America after gaining admittance to study archaeology overseas.
Trivia
The airport was known as New Tokyo International Airport until 2004, but was commonly called "Tokyo Narita" even before it was officially renamed to differentiate it from the Tokyo International Airport.
Ad blocker interference detected!
Wikia is a free-to-use site that makes money from advertising. We have a modified experience for viewers using ad blockers

Wikia is not accessible if you've made further modifications. Remove the custom ad blocker rule(s) and the page will load as expected.