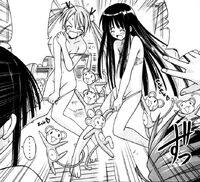 These Monkeys were encountered by the cast while exploring Kyoto, Negi Springfield is accosted by Chigusa Amagasaki; a rebel talisman user who specializes in using monkeys to assist in her work.
Gallery
Other Appearances
A.I. Love You
Main Article: Monkeys
While staying at the Kobe Onsen, Saati entered the men's hotspring in an attempt to spend some time with Hitoshi, however, the individual she was conversing with actually turned out to be a Hot Springs Monkey.
Love Hina
Main Article: Monkeys
The Hinata Residents encountered a group of monkeys after the group crashed near a hot spring near the forests of Mount Fuji.
The primates promptly stole the girls' clothes while they bathed and also took Naru's Engagement Ring. While the girls chased after them, another monkey also acquired Motoko's Hina Blade, resulting in it getting temporarily possessed by the demonic sword before Motoko could take the sword back again.
Trivia
The monkeys are possibly based on the Japanese macaque, a monkey native to Japan popular for bathing in Hot Springs.
Ad blocker interference detected!
Wikia is a free-to-use site that makes money from advertising. We have a modified experience for viewers using ad blockers

Wikia is not accessible if you've made further modifications. Remove the custom ad blocker rule(s) and the page will load as expected.