Master of the Gravekeeper's Palace

Characteristics

Race

Unknown

Gender

Female

Age

Unknown

Personal Status

Relative(s)

Negi Springfield (descendant)

Debuts

Manga Debut

Chapter 187

Anime Debut

Mō Hitotsu no Sekai OVA

Portrayal

Japanese Voice

Unknown (Mō Hitotsu no Sekai)
The Master of the Gravekeeper's Palace is a mysterious girl who was seen with Cosmo Entelecheia destroying the gateports when Ala Alba arrived on Mundus Magicus. The Master of the Gravekeeper's Palace reappeared during Ala Alba's assult of the Gravekeeper's Palace, when she revealed to Fate's Ministra Magi that she was the one who called Poyo Rainyday to stop Ala Alba[1]. After hearing that Negi had a plan to stop the collapse of Mundus Magicus The Master decided to "bet on the boy" and saved Negi's friends from Sextum by grabbing her core and immobilizing her.
Background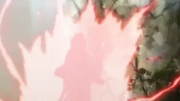 She is one of the true enigmas in Negima, the Master of the Gravekeeper's Palace is a person shrouded in mystery. We know little of her save for a couple of things: she is powerful enough to take out an Averruncus on her own, she calls Negi her descendant, hinting at that she is far more older than she seems and while seemingly being the second-in-command of Cosmo Entelecheia, she turned her back on them when she heard that Negi has a plan to save the Mundus Magicus. Who knows what else she might be hiding?
Trivia
She was previously thought to be the mastermind or second-in-command of Cosmo Entelecheia's plan to 'reduce the world to nothing'. This has since been disproved[2].
Her face bears a resemblance towards Asuna.
In the context in which Negi says that she is "Asuna's..." and "Mother's..." (chapter 314), it is possible that she is Asuna's mother and Negi's grandmother
Her outfit in almost an exact replica of Dynamis, implying that they coud be related or belonging to a similar order of mages that could possibly be under the jurisdiction of Cosmo Entelecheia.
She is one of only two characters in the animated series to not have her voice actress revealed.
References
↑ volume 33, chapter 295
↑ 'Betray? ... You wound me. I do not recall ever being your comrade' - volume 34, chapter 314
↑

Assumed, since 'descendant' conveys many generations separates them
Ad blocker interference detected!
Wikia is a free-to-use site that makes money from advertising. We have a modified experience for viewers using ad blockers

Wikia is not accessible if you've made further modifications. Remove the custom ad blocker rule(s) and the page will load as expected.