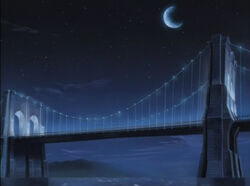 The Mahora City Bridge is a large suspension bridge that forms the border of the Mahora Academy precinct and connects the precinct with Tokyo to the south.
Gallery
Other Appearances
UQ Holder!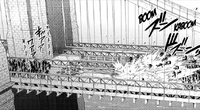 Main Article: Mahora City Bridge
In UQ Holder!, the Mahora City Bridge becomes the site of a last stand between the surviving students of the Academy and the undead legions of their fellow students and friends who have been zombiefied by Sayoko Minase.
Trivia