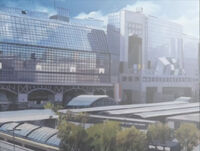 Kyoto Station (Kyoto-eki), located in Kyoto, is the second-largest train station in Japan and one of the country's largest buildings, incorporating a shopping mall, hotel, movie theater, Isetan department store, and several local government facilities under one 15-story roof.
Opening in 1997, it is 70 meters high and 470 meters from east to west, with a total floor area of 238,000 square meters. Architecturally, it exhibits many characteristics of futurism, with a slightly irregular cubic facade of plate glass over a steel frame. The architect was Hiroshi Hara.
Location Design
The Kyoto station is based on the real world location in Kyoto.
Other Appearances
Love Hina
Main Article: Kyoto Station
Gallery
Trivia
Kyoto, one of the least modern cities in Japan by virtue of its many cultural heritage sites, was largely reluctant to accept such an ambitious structure in the mid-1990s: The station's completion began a wave of new high-rise developments in the city that culminated in the 20-story Kyocera Building. Hence some criticize the station's design for taking part in breaking down the traditional cityscape.
The station was designed by former Tokyo University professor, Hiroshi Hara, who won an international competition to decide the design of the station.
Ad blocker interference detected!
Wikia is a free-to-use site that makes money from advertising. We have a modified experience for viewers using ad blockers

Wikia is not accessible if you've made further modifications. Remove the custom ad blocker rule(s) and the page will load as expected.