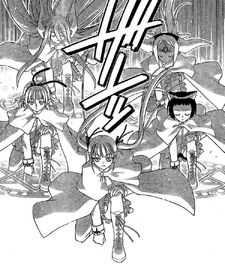 Fate's Ministra Magi, these five Ministra magi serve Fate, as they were rescued by him when they were still children. Despite their young and cute appearance, they pack a wallop. For example, member Shirabe can destroy half a tower with a single blow. They each seem to be in love with Fate.
Homura and Shiori, as well as the other girls, are actually war orphans whose parents were killed in the conflict. Fate rescues these girls and sends them to a boarding school overseas -- something which he calls his "hobby". This implies that there are other girls aside from the initial five that are showcased in the story (he had admitted to fifty-seven who he had admitted to various schools), but it is unknown whether or not these other girls are also his pactio partners.
Members
Gallery
Ad blocker interference detected!
Wikia is a free-to-use site that makes money from advertising. We have a modified experience for viewers using ad blockers

Wikia is not accessible if you've made further modifications. Remove the custom ad blocker rule(s) and the page will load as expected.