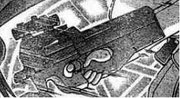 The FN Herstal P90 is a Belgian-made SMG (sub-machine gun) manufactured by Fabrique Nationale Herstal.
This sub-machine gun was first used in chapter 155, and loaded with time-warping bullets (like the PSG-1). She used it (one-handed) as a defense weapon when Kaede managed to get close enough to her to attack, though a few seconds later, she is shown fighting hand-to-hand with her Desert Eagles again. Like the PSG1 it was never made clear whether this weapon was an airsoft replica or real.
Ad blocker interference detected!
Wikia is a free-to-use site that makes money from advertising. We have a modified experience for viewers using ad blockers

Wikia is not accessible if you've made further modifications. Remove the custom ad blocker rule(s) and the page will load as expected.