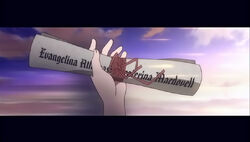 Evangeline's Scroll is a magic-imbued scroll created by Evangeline A.K. McDowell. The scroll contains the lessons required to learn the Magia Erebea; a dark magic technique developed by Evangeline herself.
The scroll possesses an illusion of Evangeline designed to tutor the reader of the scroll.

Following the revelation that Jack Rakan was going to enter the final rounds of the Ostia Tournament, Princess Theodora, Headmistress Seras, Senator Ricardo and Evangeline's Scroll tutor Negi and Kotarou to gain the power they need to win the tournament.
Some time later, Negi's Magia Erebea began to run rampant. With the help of Evangeline's Scroll and his partners in the Ala Alba, Negi was able to overcome the darkness consuming him.
Gallery
Trivia