Cinema Village (Toei Kyoto Studio Park) is a film set and theme park affiliated with the Toei film and television production company.
Established in 1975, the park welcomes about 1 million visitors a year. The park features a collection of replica buildings from historic Japan which are occasionally used as backdrops for filming historical movies and television dramas. The replicas include a replica of the original Nihonbashi Bridge, a traditional court house, a Meiji Period police box and part of the former Yoshiwara red light district. Park attendants dressed in historic costumes add to the atmosphere of the town.
Attractions and amusements include ninja performances, a ninja maze, a 360 degree 3D theater, filming demonstrations, and a haunted house that is claimed to be one of the scariest in Japan. There are also exhibitions about popular TV series, video arcades, games, restaurants and souvenir shops.
Location Design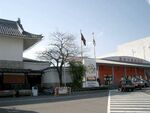 The Cinema Village is based on the real world Toei Kyoto Studio Park.
Gallery
Trivia
Toei Kyoto Studio Park is the only theme park in Japan where you can observe the filming of period dramas.
Actual filming takes place occasionally in various parts of the park, and visitors are welcome to observe the filming.
It is possible to dress up in period dress and get photographed in more than 30 different attires including samurai, geisha and ninja. Guests may also rent period style costumes to wear as they enjoy the park.
Ad blocker interference detected!
Wikia is a free-to-use site that makes money from advertising. We have a modified experience for viewers using ad blockers

Wikia is not accessible if you've made further modifications. Remove the custom ad blocker rule(s) and the page will load as expected.