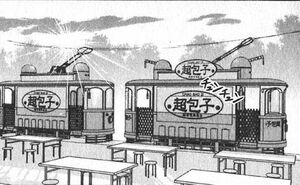 The Chao Bao Zi is an outdoor "Yatai" restaurant made, owned, and operated by Chao Lingshen. The restaurant is run and affiliated with the Mahora Academy Cooking Club.
Essentially a movable stall made from twin streetcars, the Chao Bao Zi specializes in Chinese cuisine, particularly the dish for which it is named (the Baozi).
The restaurant is usually staffed by Chao and her friends: Satomi Hakase, Satsuki Yotsuba, Ku Fei, and Chachamaru Karakuri. Chao and Satsuki cook, and the serving is done by Satomi, Chachamaru, and Ku. Although it hasn't been open very long, Chao Bao Zi has become extremely popular all over the campus, by teachers and students alike at all levels.
Layout
Divided between two street cars, the restaurant's bar and kitchen is built into the second tram. The second tram possesses retractible stools that fold out of the car's sides. What appear to be two gun turrets are mounted on the top of each car, but their barrels are sealed, and their purpose remains unknown. The kitchen car is also capable of flight, the stools converting into hover engines.
Gallery
Other Appearances
UQ Holder!
In UQ Holder!, the Chao Bao Zi makes an appearance serving as a bakery stand selling school lunches to the Academy students.
Trivia
The restaurant is only open for a limited time, usually the week before the Mahora Academy School Festival.
In the Negima! anime, the Chao Bao Zi serves as Satsuki's Pactio artifact, allowing to serve enough food to feed an army of demons, or at least make some of the more foolish ones eat themselves to death.
Ad blocker interference detected!
Wikia is a free-to-use site that makes money from advertising. We have a modified experience for viewers using ad blockers

Wikia is not accessible if you've made further modifications. Remove the custom ad blocker rule(s) and the page will load as expected.