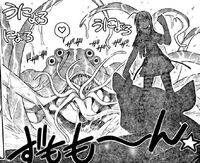 The Cerberus Cloth Eater is a pseudo-octopus species that lives within the marshes of tropical rain forests in the Magic World. Approximately 5-10 meters in length, the Cloth Eater is so named for it's dietary habit of dissolving and eating the clothes of its "prey". While not known for eating those it captures, it is known for leaving them completely naked in the wilderness and for this they are greatly feared by travelers.
Gallery
Ad blocker interference detected!
Wikia is a free-to-use site that makes money from advertising. We have a modified experience for viewers using ad blockers

Wikia is not accessible if you've made further modifications. Remove the custom ad blocker rule(s) and the page will load as expected.