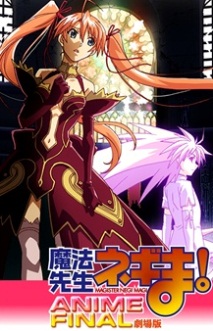 Akamatsu Ken announced in his web diary that they can now initiate "the project" freely because the number of the pre-orders of the new OAD Mahou Sensei Negima! Mō Hitotsu no Sekai was large enough. He said he could not explicitly disclose what "the project" is from now since the sales data turned Akamatsu's personal desire into a real project. He had been saying that the final chapter of the OAD series will be released as a movie if the sales are successful.
Weekly Shounen Magazine announced a "full-length" anime that would be premiered in 2011 and used the term "Negima Saga Final".
On May 17, 2011 the offical site opened with the new title "Mahō Sensei Negima: Anime Final" and will released in Japanese theaters on August 27, 2011 as a double-bill with Hayate the Combat Butler! Heaven Is a Place on Earth. The movie will conclude Journey to Magic World arc.
A CD will be released on the August 24, 2011 featuring the theme songs of the movie along with the off vocal versions.
According to the website for the anime, the dvd will be available February 17th 2012 in Japan bundled with volume 37 of the manga and November 24th 2011 is the deadline to order it.
Ad blocker interference detected!
Wikia is a free-to-use site that makes money from advertising. We have a modified experience for viewers using ad blockers

Wikia is not accessible if you've made further modifications. Remove the custom ad blocker rule(s) and the page will load as expected.