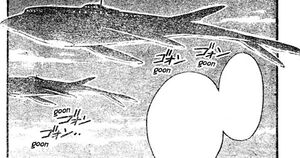 An Airfish is a type of airship so named for being physically based on the appearance of sea creatures. Airfish are a common mode of aerial transportation in the Magic World on Mars.
Types of Airfish
See Also
Gallery
Trivia
Many of the military airfish are designed around the appearance of sharks.
Ad blocker interference detected!
Wikia is a free-to-use site that makes money from advertising. We have a modified experience for viewers using ad blockers

Wikia is not accessible if you've made further modifications. Remove the custom ad blocker rule(s) and the page will load as expected.